Discover How To Transform Your Blues Rhythm Playing With 52 Rhythm Fills And Variations...
52 Rhythm Fills & Variations will transform your blues rhythm playing so you can play chorus after chorus in the same song without it ever sounding boring or stale… and without having to learn a bunch of "finger buster" chords or exotic scales. And for this special offer you can get it for $49 plus some great bonuses!
Get this great course for $49... plus fantastic bonuses worth $136!
Bonus #1 – Ultimate Blues Jams –How about 50 more blues jams recorded by yours truly in a real recording studio. You'll have complete access to all 50 via immediate download through a secure member's area (they are not on CD and are not shipped.) This is a $39 value.
Bonus #2 – The "BGU Insiders" Vault – The BGU Insiders was a monthly membership that ran a couple of years ago for about 9 months. During that time I created some amazing lessons and videos that have been locked up for over 2 years now. You can't even buy access to these lessons, you can only get them here. There are lessons on soloing (including some great stuff on the Pentatonic 6 scale,) modes, and even some acoustic lessons. If I had to put a price on these it would be at least $97
Bonus#3 – Access to the Blues Guitar Unleashed member forum… with over 8100 members it's the ultimate place to get help and connect with other blues guitar players around the world. You'll never be alone.
As you may have learned by now, most blues falls into a couple of common feels…
There's the slow blues, something like the old familiar "Blues In E" so common at any jam session…
And then there's the shuffle blues so common in songs like "Sweet Home Chicago," "Tore Down," and… well… about 1000 other songs.
Now you might have some pretty good "stock" rhythm patterns that you use for tunes like that… but what happens when each song is going 10-12 choruses (meaning 10-12 times through the chord progression?)
Yup… it gets pretty dull pretty fast.
How do I know? I see it all… the… time.
Because you see I love going to open blues jams and I'm fortunate that there are several in my area. So I see hundreds of other guitar players just like you every single month…
And that's on top of the other 100,000+ guitar players around the world using my courses and online lessons.
Believe me, this is a really common problem and totally not your fault at all.
Because the way you've learned up until now is in standards and basics… all good things and super important.
But now it's time to liven things up a little bit 🙂
So that's why I created 52 Rhythm Fills & Variations:
And as the name implies, there are 52 different ideas in slow blues, shuffle blues, straight feel blues, latin blues, even 2nd line Louisiana styles.
So you'll never be without some cool ideas for variations on any rhythm or feel that comes up at your next jam session.
With even just a small portion of the ideas inside 52 Rhythm Fills & Variations you'll have more than enough ideas to keep your comping and rhythms sounding fresh and unique, chorus after chorus.
52 Rhythm Fills & Variations comes on either 3 DVDs, with the accompanying CD and printed manual, or there is a digital delivery, instant access version. The digital delivery edition comes standard with the DVDs, so you don't have to choose one or the other.
Just choose your format, Digital Delivery, or DVD plus digital delivery, and click the "Add to cart" button to get your copy of 52 Rhythm fills & Variations.
Of course, it's not possible to put every single possible variation of every single blues rhythm into 1 course, but I think you'll agree when you get into this course that it will give you the tools to not only use the rhythm examples in the course, but to create your own and really get the creative juices flowing.
And don't forget that like all of my courses, you get a full 365 days to try it out for yourself. If it isn't everything I've said it is and more, just let us know and you'll get a full and complete refund, no questions asked, and you don't even have to send it back.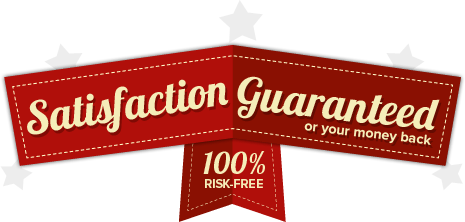 I can't make it any more "no risk" than that.
Check out what some other blues guitar players have said about 52 Rhythm Fills & Variations:
I'm only on lesson 1.17 but I've learned a load of stuff that I WILL be incorporating into my playing.
Mike Santarcangelo, TX, USA
Excellent, excellent course. This is exactly the stuff I can really use. Thank you Griff!!
LeftyJeff (forum member)
I think it is some very fundamental stuff that a lot of intermediate players will see as very useful and something that will give beginners something to make their rhythm practice a whole lot more self-entertaining. None of it should be difficult for anyone who can play a 12 bar rhythm pattern and your "kitchen sink" video shows that you don't need to follow any rigid structure in sequencing the embellishments into your playing.
Lloyd Hanson, FL, USA
For years I've noodled around with rhythms and fills on my own, and have come up with a couple that work really well, but not a patch on what Griff steps ya through on this new course.
Steve Sawyer, MI, USA
To get your complete copy of 52 Rhythm Fills & Variations Plus 2 Bonuses just click the yellow "Add To Cart" button below with your preferred delivery method. Just as soon as your order is complete you will receive an email with your access instructions to the secure Member Portal so you can be transforming your blues rhythm playing from boring to killer in just a few minutes from now!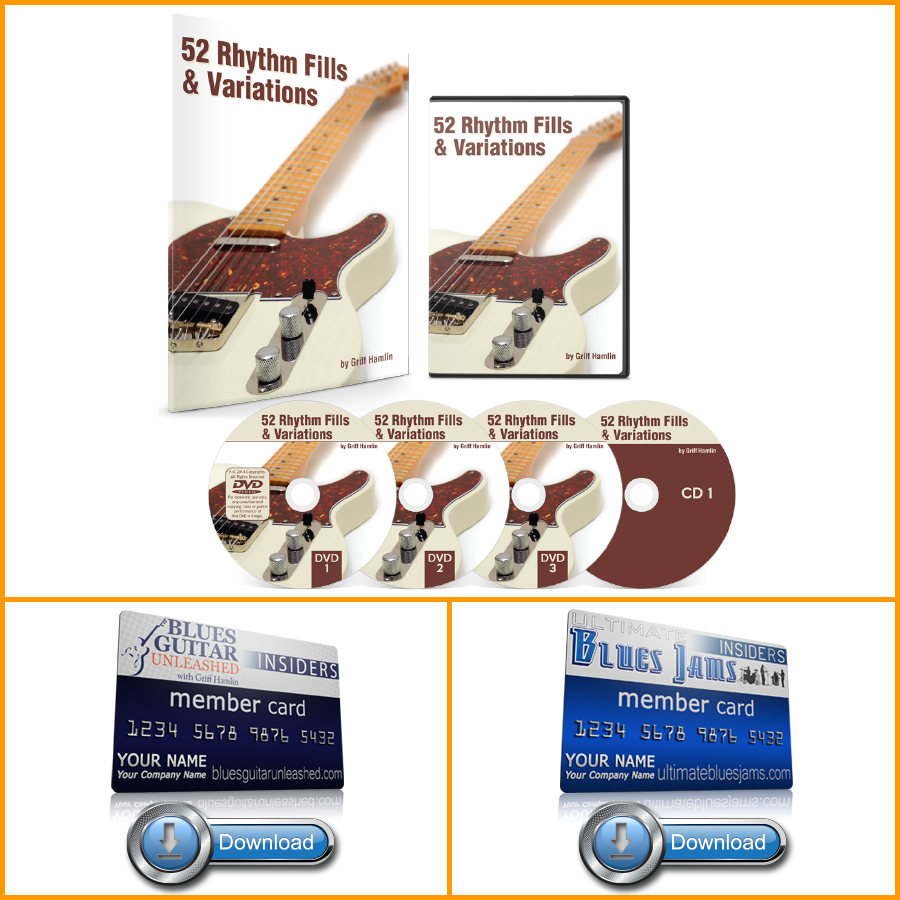 This is a one time payment, NOT a subscription. 3 Payment option is available on the next page.